About the Reaction I Expected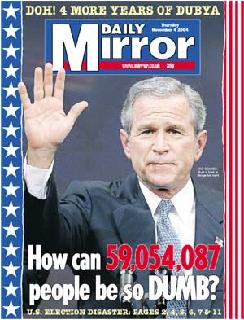 And this was one of the milder reactions.
Comments
Create
My mood has been swinging wildly from a weird optimism that we can somehow overcome this to believing the mock "Time" cover I saw with a picture of W on a black background with the words "We're Fucked"
I don't know which paper or where, but there was one that was all black and in small white letters it said, "Oh, God." That was pretty much how I felt Wed. morning.
Add Comment